MicroData Instrument, Inc.
Innovator of Precision Scientific Instruments
Serving Customer World Wide
MDI is the Original Equipment Manufacturer (OEM) of scientific instruments since 1991. We are the world leader in programmable Microinjectors, Multi-barrel Pipette Pullers, Micromanipulators, Microforge, and Microfluidic. Our customers can be referenced in major research facility world wide. We take excellent care of our customer's need and provide tools needed for their research. We even customized tools for specific need in advance research. MDI is proud to serve our customer with cutting edge technology, enabling time saved, precision, and quality results.
---
---
---
(JHM IMS PM) Cell Microinjection Work Station
Complete set of Inverted Microscope with Three Dimensions 3D Hydraulic Joystick Micromanipulators for precision control of the micro-pipettes and microinjector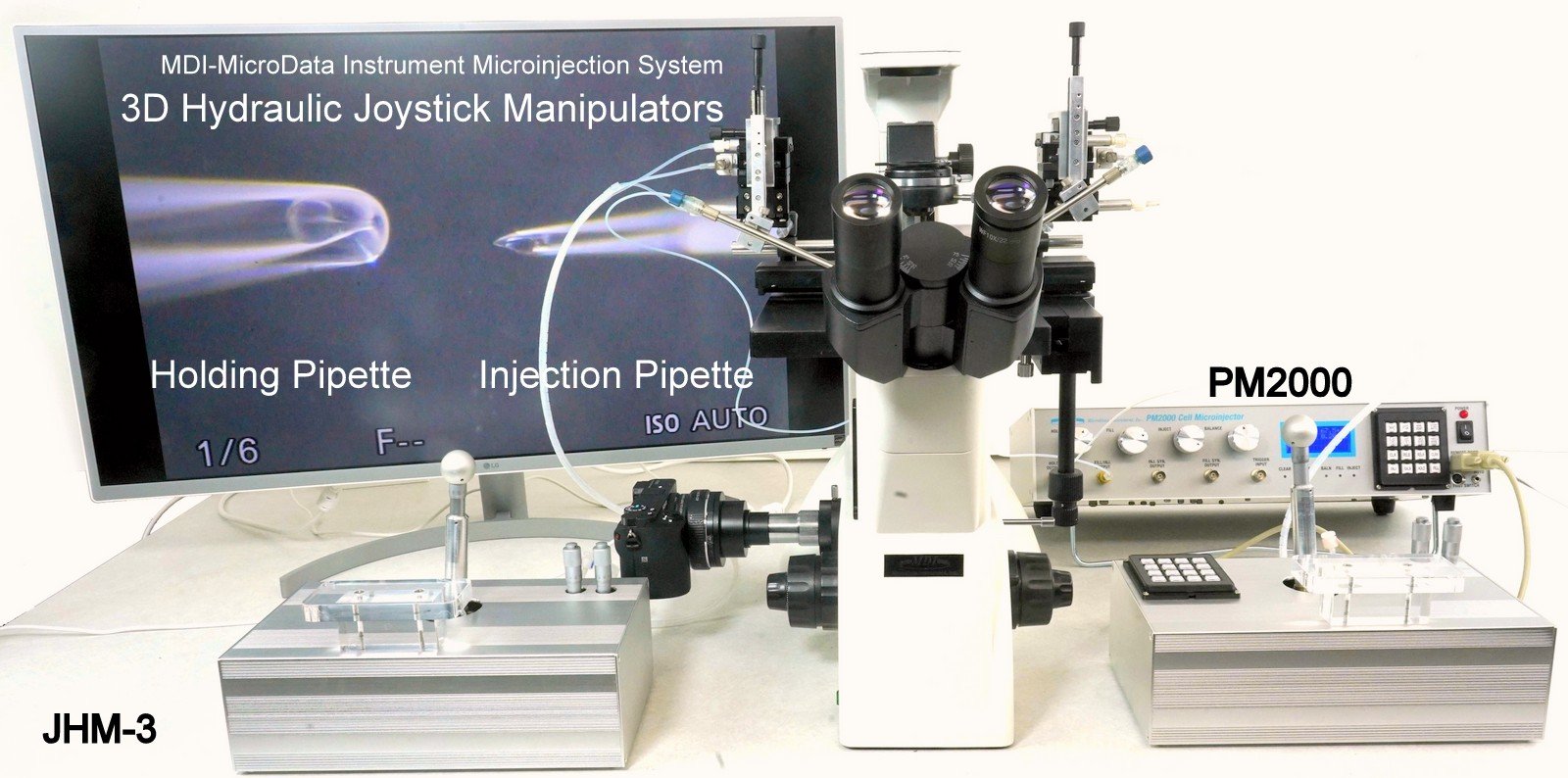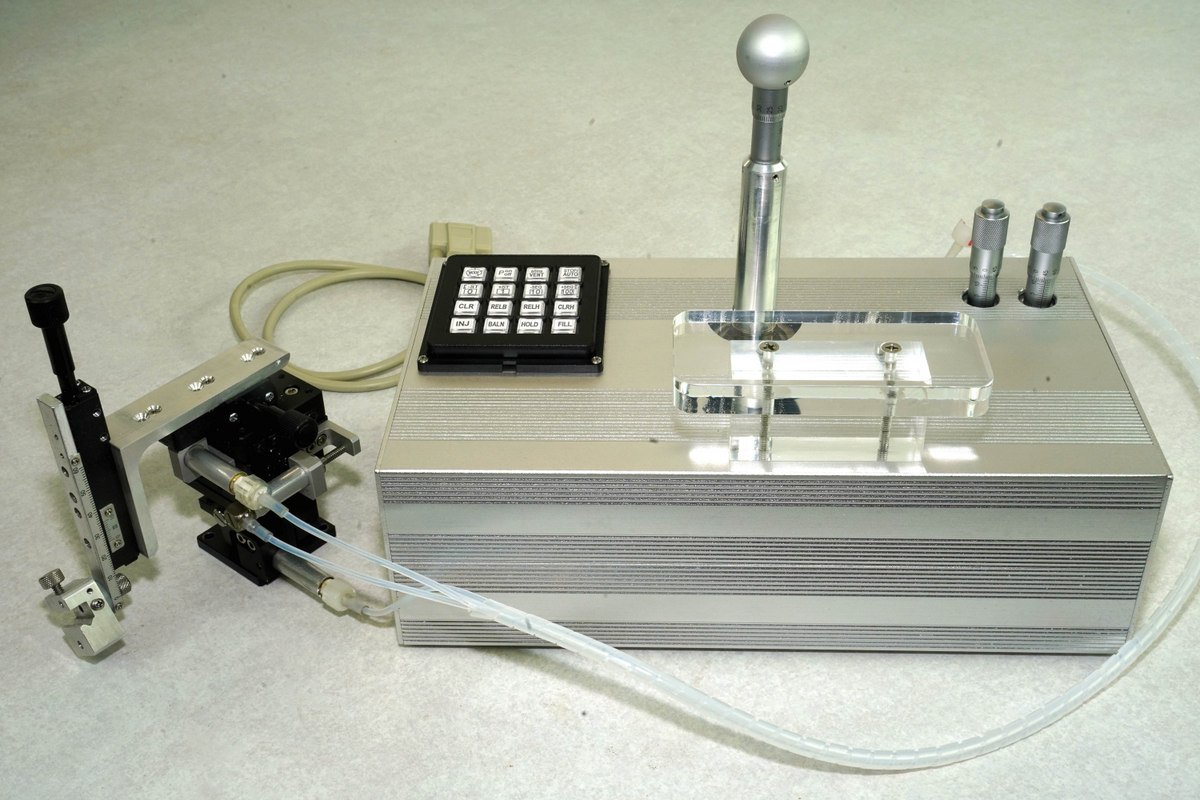 (IMS-03) Precision Inverted Microscope platform
(JHM-3) 3 Dimensions 3D Joystick Micromanipulatorsmoving stages
(PM2000) Programmable Cell Microinjector
Ultra-long working distance plan achromatic objective
Wide field eye piece and phase contrast attachment
C-mounted adaptor for video camera or digital camera conncetion
Provides a complete full setup needed for Cell Microinjection
PMFP Programmable Multi-Channel Microfluidic Pump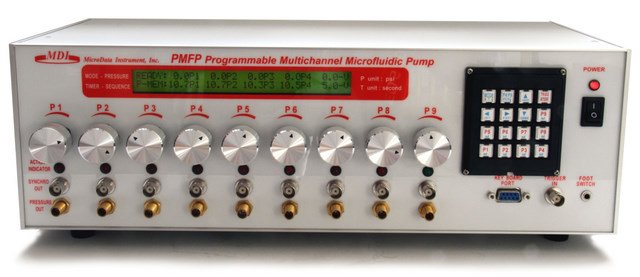 Multichannel pressure outputs with versatile capabilities and compact size for microfluidic solution driving
Up to eight independent pressure output channels plus one adjustable vacuum suction output channel
Programmable and savable timers and automatic multistep sequences. Adjustable nine output pressures, one suction vacuum and savable readings
Nine independent synchronize signal outputs, trigger and interrupt signal input and trigger/interrupt foot switch
Convenient full function control key pad and remote port for remote key pad and computer interface
PMP-102Q Quartz Glass Pipette Puller
Programmable Quartz Glass Micropipette Puller
Pull fused quartz, fused silica glass micropipette with regular cooking butane gas
High efficient micro torch with precision flame control without focusing problem
99 Programmable sequences with up to 18 steps for each sequence
Precise tip length setting with horizontal symmetric double pull
---
New Product MFG-5P & MFG-5APT Digital Camera
Microforge Grinding Center
Core features:
Build-in interchangeable from heater to grinder both directions in just 1 second

Usage: Pipette polishing, shaping, tipping, bending, beveling, and grinding

Precise movements for pipette/heater/grinder optical focus

Universal pipette holder up to 7 barrel pipettes and 0-180° beveling

Up to 800x magnification and scale; distant working lens

Adjustable grinder speed and heat level

High power background and side LED lights for clear and sharp image

Foot switches for heater and grinder control

Syringe and special tubing for wet grinding and pressure air cleaning